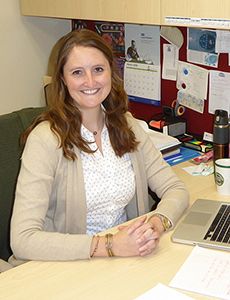 Dr. Lynch is an immunologist/virologist whose work focuses on the interactions between virus and antibody and is especially interested in the consequences of HIV-1 genetic diversity on antibody functionality. She worked for two years as a research technician before embarking on a PhD in Immunology and Molecular Pathogenesis (IMP) at Emory University under mentorship of Dr. Cynthia Derdeyn. During her graduate studies, Dr. Lynch characterized the role of the HIV envelope in the escape from neutralizing antibodies during HIV subtype C infection. She trained at the NIH's Vaccine Research Center (VRC) as post-doctoral fellow in Dr. John Mascola's lab where her research focused on antibody and virus lineage development in individuals who develop broadly neutralizing antibody (bNabs) responses against HIV-1. Additionally, she studied the use of these bNAbs in clinical trials. Her independent laboratory investigates how HIV-1 escapes from bNAbs, and how to use this information to inform cure strategies. The lab is currently analyzing the neutralization sensitivity of re-activated reservoir virus from individuals on anti-retroviral therapy with an aim to inform personalized HIV-1 treatment. She has successfully transitioned her K22 research into an R01 as well as a CFAR pilot grant into an R21. She has over 40 peer-reviewed publications, and wonderful collaborators from all around the world.
---
Dr. Lynch's Contributions to Science:
1. Development of broadly neutralizing responses in rare individuals. My studies in this area led to collaborations with multiple seroconverter cohorts to identify the rare individuals who develop strong broadly neutralizing antibody responses specifically against the conserved CD4-receptor binding site, and then trace back this particular response to early infection. This work was designed to study which virus and B-cell lineages in particular were involved in developing this broad response against a conserved epitope. In these collaborations, I screened polyclonal sera, identified, characterized and cloned broadly neutralizing antibodies and sequenced B cells transcripts to follow antibody development over time.
a. Lynch RM, Tran L, Louder MK, Schmidt SD, Cohen M; CHAVI 001 Clinical Team Members, Dersimonian R, Euler Z, Gray ES, Abdool Karim S, Kirchherr J, Montefiori DC, Sibeko S, Soderberg K, Tomaras G, Yang ZY, Nabel GJ, Schuitemaker H, Morris L, Haynes BF, Mascola JR. The Development of CD4 Binding Site Antibodies during HIV-1 Infection. Journal of Virology. 2012; 86(14):7588-95. PMCID: PMC3416294.
b. Liao HX*, Lynch R*, Zhou T*, Gao F*, Alam SM*, Boyd SD, Fire AZ, Roskin KM, Schramm CA, Zhang Z, Zhu J, Shapiro L; NISC Comparative Sequencing Program, Becker J, Benjamin B, Blakesley R, Bouffard G, Brooks S, Coleman H, Dekhtyar M, Gregory M, Guan X, Gupta J, Han J, Hargrove A, Ho SL, Johnson T, Legaspi R, Lovett S, Maduro Q, Masiello C, Maskeri B, McDowell J, Montemayor C, Mullikin J, Park M, Riebow N, Schandler K, Schmidt B, Sison C, Stantripop M, Thomas J, Thomas P, Vemulapalli M, Young A, Mullikin JC, Gnanakaran S, Hraber P, Wiehe K, Kelsoe G, Yang G, Xia SM, Montefiori DC, Parks R, Lloyd KE, Scearce RM, Soderberg KA, Cohen M, Kamanga G, Louder MK, Tran LM, Chen Y, Cai F, Chen S, Moquin S, Du X, Joyce MG, Srivatsan S, Zhang B, Zheng A, Shaw GM, Hahn BH, Kepler TB, Korber BT, Kwong PD, Mascola JR, Haynes BF. Co-evolution of a broadly neutralizing HIV-1 antibody and founder virus. Nature. 2013; 496(7446):469-76. PMCID: PMC3637846. *co-first authors
c. Zhou T*, Lynch RM*, Chen L*, Acharya P*, et.al, Structural Repertoire of HIV-1-Neutralizing Antibodies Targeting the CD4 Supersite in 14 Donors. Cell. 2015; 161(6):1280-92. PMCID: PMC4683157. *co-first authors
---
2. Virus escape from broadly neutralizing antibodies. In studies of the impact on the virus of broadly neutralizing antibodies, I demonstrated that resistance mutations to CD4 binding site antibodies can impact virus replication fitness. I extended this work to study how the virus responds to infusion with one of these antibodies, VRC01, during chronic HIV-1 infection. This body of work suggests that using CD4 binding site antibodies as therapeutics may impact the overall fitness of the virus to replicate. In these studies, I cloned and characterized many different HIV-1 viruses to study antibody escape as well as assess replicative fitness.
a. Lynch RM, Wong P, Tran L, O'Dell S, Nason MC, Li Y, Wu X, Mascola JR. HIV-1 fitness cost associated with escape from the VRC01 class of CD4 binding site neutralizing antibodies. Journal of Virology. 2015; 89(8):4201-13. PMCID: PMC4442379.
b. Ledgerwood JE, Coates EE, Yamshchikov G, Saunders JG, Holman L, Enama ME, DeZure A, Lynch RM, Gordon I, Plummer S, Hendel CS, Pegu A, Conan-Cibotti M, Sitar S, Bailer RT, Narpala S, McDermott A, Louder M, O'Dell S, Mohan S, Pandey JP, Schwartz RM, Hu Z, Koup RA, Capparelli E, Mascola JR, Graham BS; VRC 602 Study Team. Safety, pharmacokinetics and neutralization of the broadly neutralizing HIV-1 human monoclonal antibody VRC01 in healthy adults. Clinical & Experimental Immunology. 2015; 182(3):289-301. PMCID: PMC4636891.
c. Lynch RM, Boritz E, Coates EE, DeZure A, Madden P, Costner P, Enama ME, Plummer S, Holman L, Hendel CS, Gordon I, Casazza J, Conan-Cibotti M, Migueles SA, Tressler R, Bailer RT, McDermott A, Narpala S, O'Dell S, Wolf G, Lifson JD, Freemire BA, Gorelick RJ, Pandey JP, Mohan S, Chomont N, Fromentin R, Chun TW, Fauci AS, Schwartz RM, Koup RA, Douek DC, Hu Z, Capparelli E, Graham BS, Mascola JR, Ledgerwood JE and the VRC 601 Study Team. Virologic Effects of Broadly Neutralizing Antibody VRC01 Administration During Chronic HIV-1 Infection. Science Translational Medicine. 2015; 7(319). PMID: 26702094
d. Bar KJ, Sneller MC, Harrison LJ, Justement JS, Overton ET, Petrone ME, Salantes DB, Seamon CA, Scheinfeld B, Kwan RW, Learn GH, Proschan MA, Kreider EF, Blazkova J, Bardsley M, Refsland EW, Messer M, Clarridge KE, Tustin NB, Madden PJ, Oden K, O'Dell SJ, Jarocki B, Shiakolas AR, Tressler RL, Doria-Rose NA, Bailer RT, Ledgerwood JE, Capparelli EV, Lynch RM, Graham BS, Moir S, Koup RA, Mascola JR, Hoxie JA, Fauci AS, Tebas P, Chun T-W. Effect of HIV Antibody VRC01 on Viral Rebound after Treatment Interruption. New England Journal of Medicine. 2016;375(21). PMCID: PMC5292134
---
3. Neutralizing antibody responses to flaviviruses after Guillain Barre Syndrome (GBS). In these studies, I measured neutralizing antibody titers to ZIKV and DENV in multiple plasma samples from flavivirus endemic region of Colombia and investigated the relationship between titers and clinical diagnosis of GBS.
a. Lynch RM, Mantus G, Encinales L, Pacheco N, Li G, Porras A, Mendoza AR, Peng J, Rengifo-Pardo M, Cruz MM, Harris E, Bethony JM, Simon GL, Chang AY. Augmented Zika and Dengue Neutralizing Antibodies Are Associated With Guillain-Barré Syndrome. Journal of Infectious Diseases. 2019 Jan 1;219(1):26-30. PMCID: PMC6284544.
b. Chang AY, Lynch RM, Martins K, Encinales L, Cadena Bonfanti AÁ, Pacheco N, Reid SP, Lara Sarabia OE, González Torres HJ, Mejia Castillo S, Barrios Taborda O, Alarcon Gomez M, Guerra Duran B, Martinez Giraldo V, Benitez Ospino A, Porras A, Mendoza AR, Mantus G, Li G, Peng J, Kamalapathy P, Avendaño Echavez LG, Dowd KA, Rengifo-Pardo M, Barraza PP, Jiménez Hernàndez D, González Coba A, La Hoz Mendoza De K, Bethony JM, Simon GL. Long-term clinical outcomes of Zika-associated Guillain-Barré syndrome. Emerg Microbes Infect. Nature Publishing Group; 2018 Aug 22;7(1):148. PMCID: PMC6104068